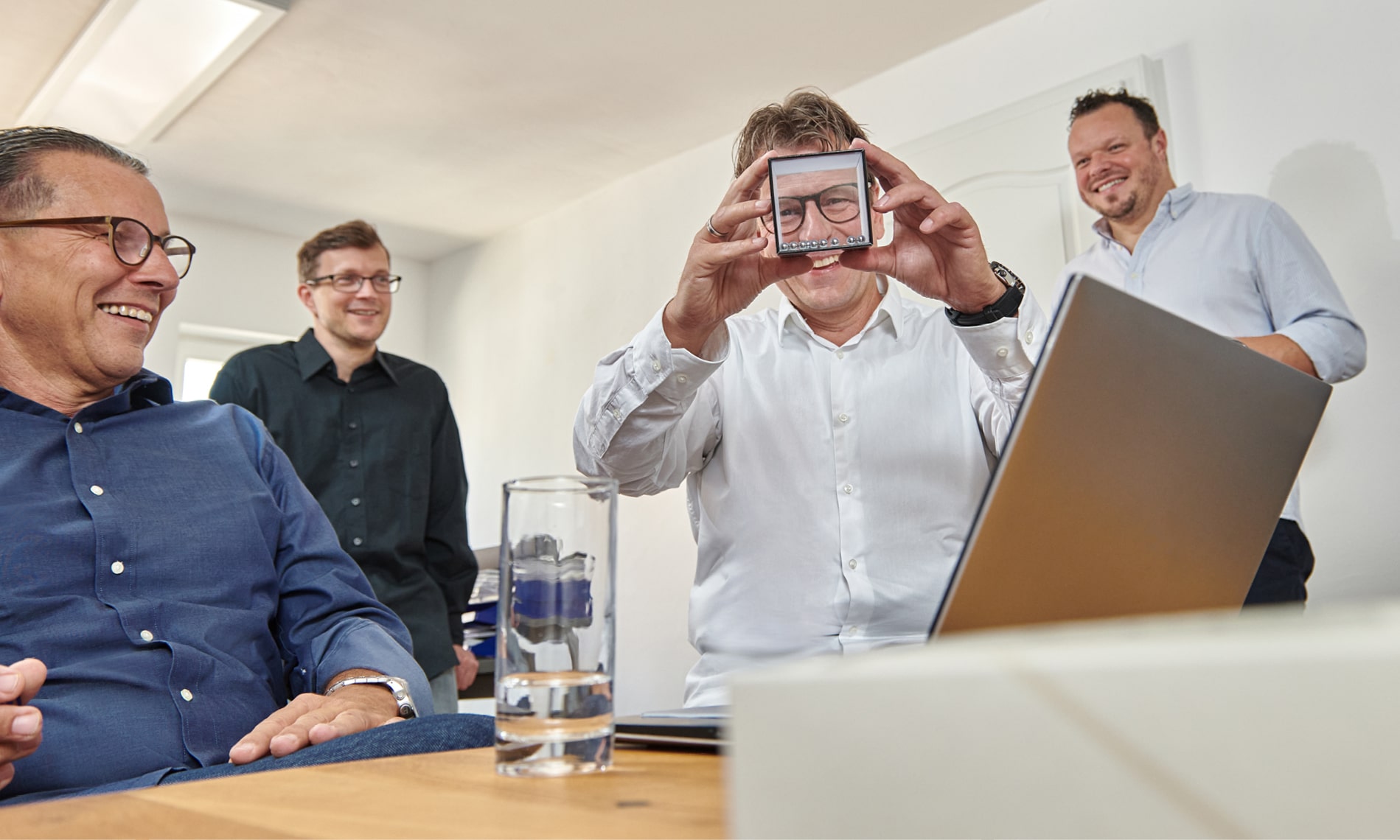 Weil wir jeden Tag begeistern möchten.
Wir sind 1996 mit der Mission angetreten, gute Kommunikation in ihrer jeweils individuellen Form so umzusetzen, dass sie sinnlich begeistert – durch eine qualifizierte Auswahl feiner Materialien, raffinierte Veredelungen und eine erstklassige Druckqualität. Was uns dabei bis heute antreibt, ist die Leidenschaft, uns selbst und unsere Leistungen ständig weiterzuentwickeln. So bilden wir seit vielen Jahren auch neueste Entwicklungen im Bereich der Digitalisierung ab. Immer mit dem Ziel, für unsere Kunden »Out of the box« zu denken, durch ungewöhnliche Ideen zu überraschen und im Bereich der Produktion zu den Besten unserer Zunft zu gehören.
Wie wir arbeiten. Miteinander mehr bewegen.
KOMMINFORM steht für ein faires Miteinander – für Partnerschaft, Kundennähe, Dialog und Lösungsorientierung. Nur durch ehrliche, offene und sachliche Gespräche auf Augenhöhe können Bedürfnisse und Erwartungen definiert, Ziele avisiert und erstklassige Ergebnisse realisiert werden. So gehen wir intern miteinander um. Und so arbeiten wir seit 25 Jahren überaus erfolgreich für und mit unseren Kunden.
Unser Team. Wissen und Kreativität im Dialog.
Bei KOMMINFORM arbeiten handverlesene Experten aus den unterschiedlichsten Disziplinen in den beiden Bereichen Print-Produktion und digitale Lösungen. Im Team sind wir unschlagbar – durch permanenten Wissenstransfer und durch kreative Impulse, die wir gemeinsam entwickeln und ins jeweilige Projekt mit einfließen lassen.
Unsere Auszeichnungen. Exzellenz sichtbar machen.
Für unsere Arbeitsergebnisse wurden wir mehrfach mit den renommiertesten Kreativ-Awards ausgezeichnet.
KOMMINFORM GmbH & Co. KG
Hauptsitz
Hauptstraße 189
63897 Miltenberg
KOMMINFORM GmbH & Co. KG
Rhein-Main
Baseler Straße 10
60329 Frankfurt am Main
© 2023, KOMMINFORM GmbH & Co. KG